De Fabriek – HBBGVZ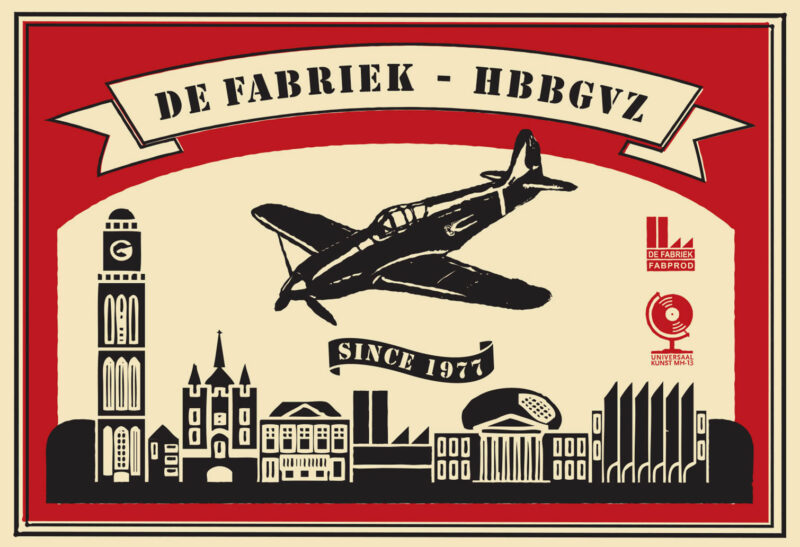 Het Best Bewaarde Geheim Van Zwolle is a brand new release by De Fabriek is housed in a beautifully designed matchbox style packaging which slides open to reveal a fluorecent green cassette accompanied by several inserts and items. 50 copies were made only 25 will be up for sale starting friday april 16th: https://universaalkunst.bandcamp.com/album/hbbgvz
update: this has now sold out.
De Fabriek hails from the Dutch City of Zwolle and started in december 1977 as a collective project.
Currently De Fabriek consists mainly of Richard van Dellen and Louise Nanuru and, in the style of a workers collective, works together with numerous musicians and artists (workers) providing a line-up that changes almost every release.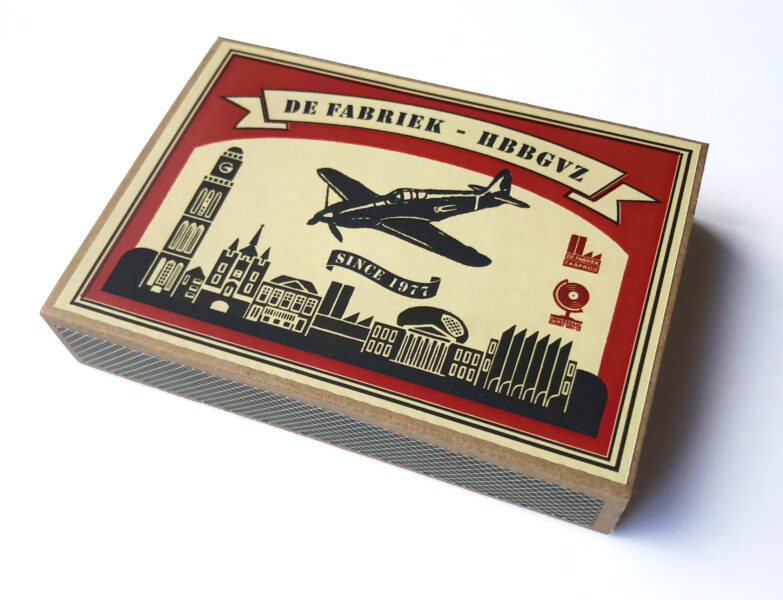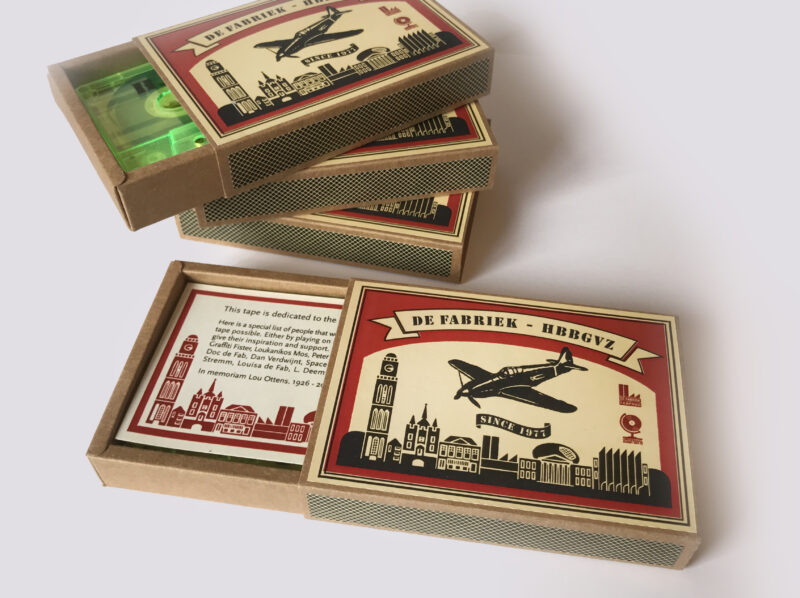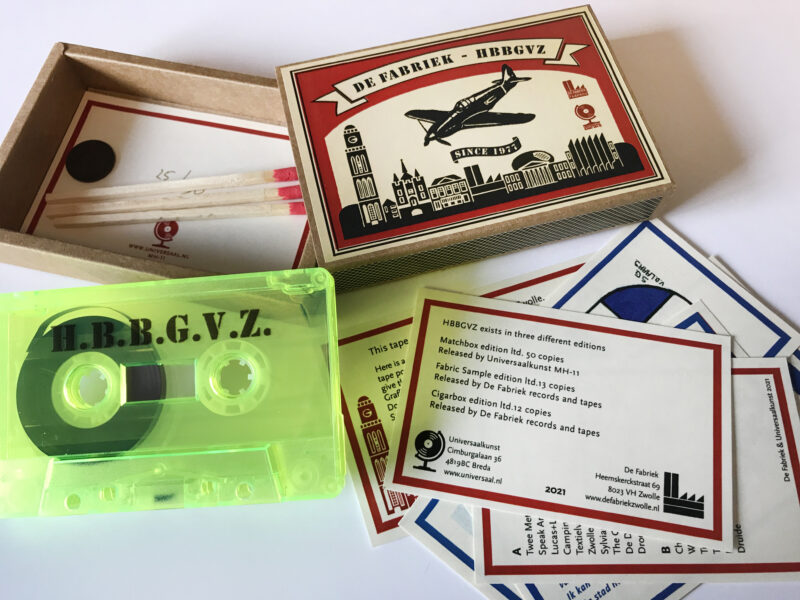 REVIEW VITAL WEEKLY 20-04-2021
DE FABRIEK – HBBGVZ (cassette by Universaal Kunst)

This cassette is housed in what is by far the best package of this week: an oversized matchbox, with a spitfire on the front and a few matches inside, along with pieces of paper. There are also versions released by De Fabriek, in a fabric sample and a cigar box. This all reeks of the old days when cassette packaging dared to be different,
and this is mostly lost with current releases. The title acronym stands for 'Het Best Bewaarde Geheim Van Zwolle' (Zwolle's best kept secret), which relates to the hometown of De Fabriek director Richard van Dellen. No doubt, a title with some irony, as on the first De Fabriek cassette, which dates from 1977, there was a song called 'Kein Spass In Zwolle', (No fun in Zwolle), which they updated a few times, but not on this new one. The usual cast of rotating members got a firm twist as none of the names on this cassette, but I understand that Richard is still part of it, and many of these are nicknames of fellow citizen's of Zwolle. While the cover lists a bunch of tracks per side, it is not easy to single these out to individual tracks. Every section floats right into the next, and nothing stays on for very long. Throughout the music is slightly more abstract, following their more rhythm-based CD releases of late. The cosmic music thread that always was a part of their work is
something that lingers a bit stronger in this new release, along with elements of industrial music and collage-style cut-up, including a voice bit about Zwolle and the cry of an infant. These sixty minutes read like a good overview of the musical development of De Fabriek for the past 44 years, condensed to one tape. Not just a brilliant package, but excellent music as well! (FdW)

Modelbau – Senderfolge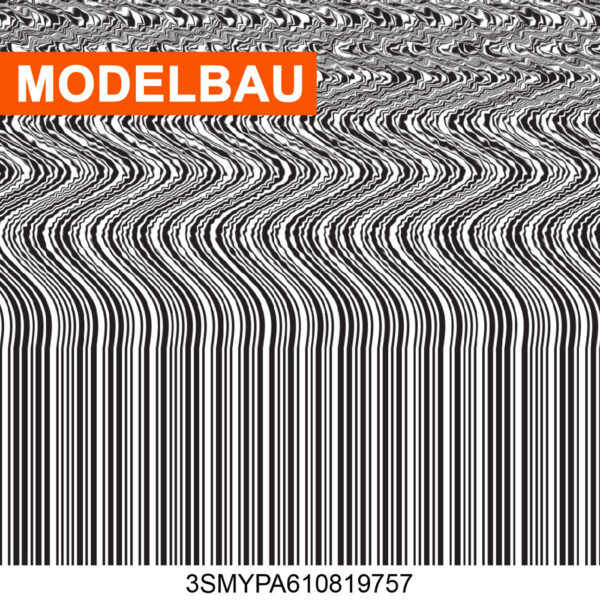 Modelbau is Frans de Waard who has been on the forefront of the Dutch experimental music scene for decades and has been involved in numerous projects like Kapotte Muziek, Beequeen, Goem, Zebra, Freiband, Wander, Shifts, Qst, Wasm, THU20.. just to name a few..
Since 2012 Modelbau is Frans' main project doing live improvisational electronics focusing on mainly analog sound sources.
"November 2020 was a very productive month for Modelbau. I spent no less than 20 evenings recordings bits of music, and as with all things Modelbau all of this is recorded live to two tracks. This month I used a lot of (iPad) synthesizers, a lot of radio sounds, Korg MS20 and only a small bit of cassettes. I selected the best bits, applied minimal editing."
Senderfolge has been culled from these November 2020 sessions.
Here we find the Modelbau at its best: creating beautiful and subtle environments that feel quite familiar but alienating at the same time. Like the hazy memory of a place you have (almost) forgotten about.. Slowly shifting electronics with radio fragments and hiss trickling through and fading away again.

High quality 'pro duped' transparent on-body printed C60 cassette.
Housed in a deluxe debossed cardboard linen-look box packed in a specially designed shipping box. The shipping box itself is part of this release, all copies are slightly different and personalised. Open with care..

Limited to 40 numbered copies.

Senderfolge is released on 4-3-21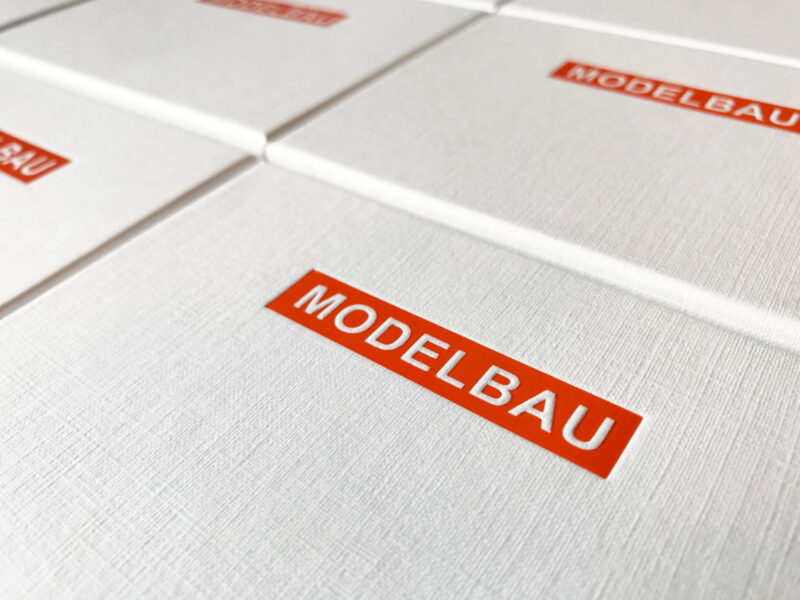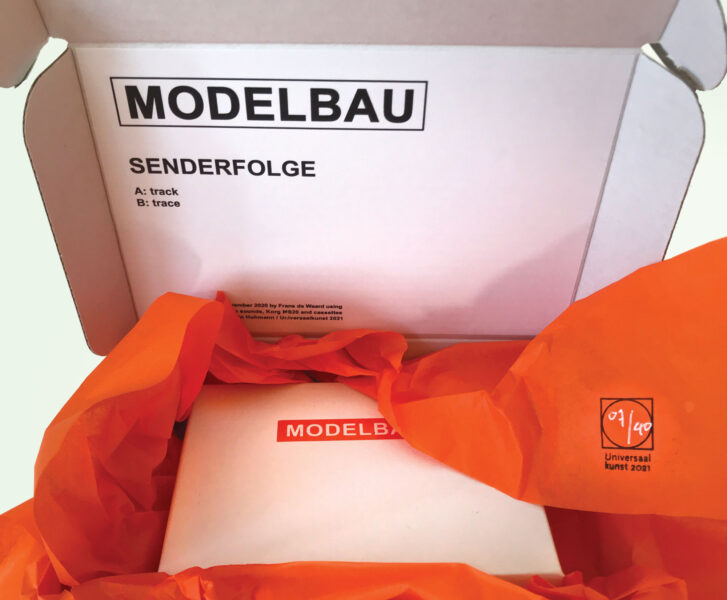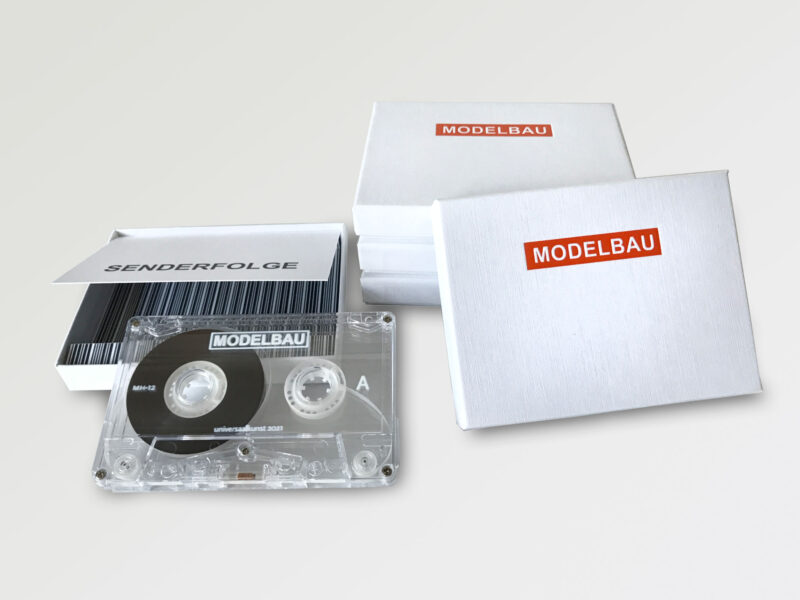 Martijn Hohmann – The Hohmann transfer
New full length CD by Martijn Hohmann released on De Fabriek records and tapes. A total of eight tracks make up this release which is a 'free association between the various forms of leaving earth' Traveling to the moon, losing one's consciousness or the end of life itself, with the Hohmann family name as a starting point and guiding theme. Experty Mastered by Jos Smolders at EARLabs.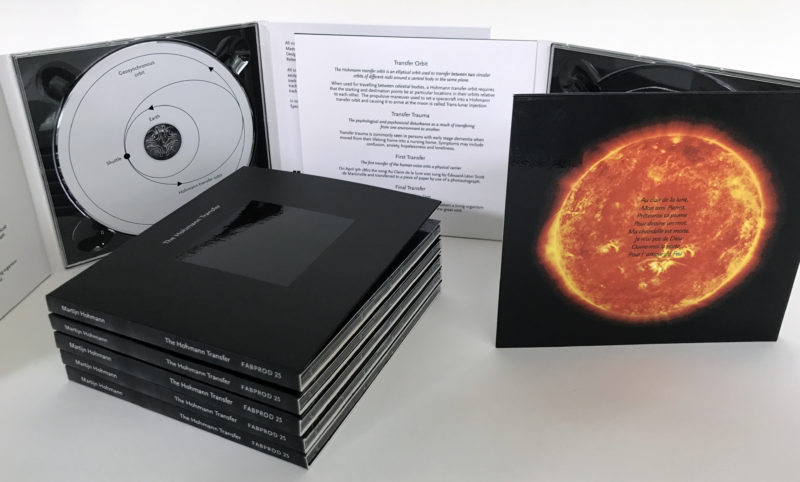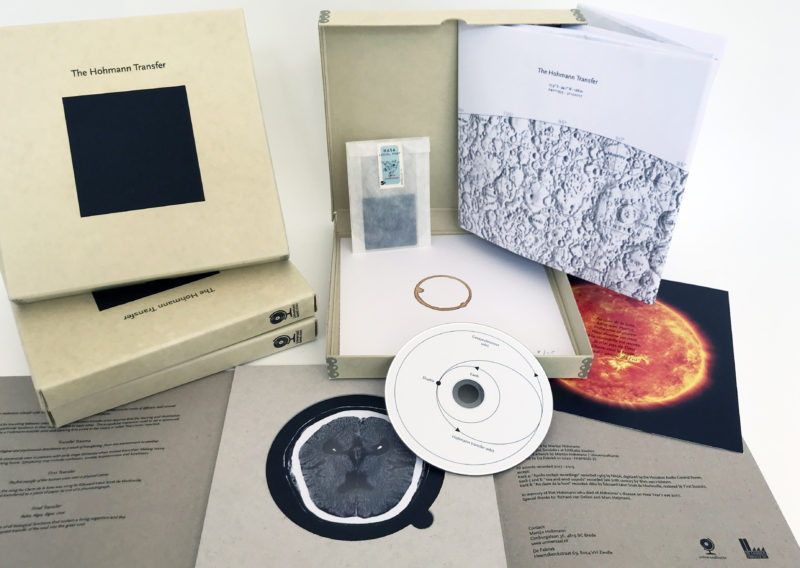 Martijn Hohmann – Yunus mini CDR
Yunus is single track burn-to-order miniCDR in a seaweed packaging
The harsh reality of migration intertwined with the dreamlike story of Jonah.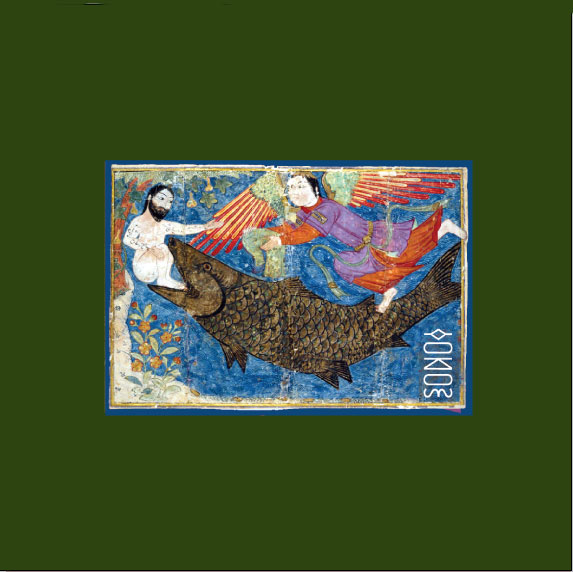 Martijn Hohmann – 130923_epalle mini CDR
Single 10 min. track mini CDR in a mini dvd style case.
Slightly edited fieldrecordings from Epalle France.
Limited to 12 copies, signed and numbered.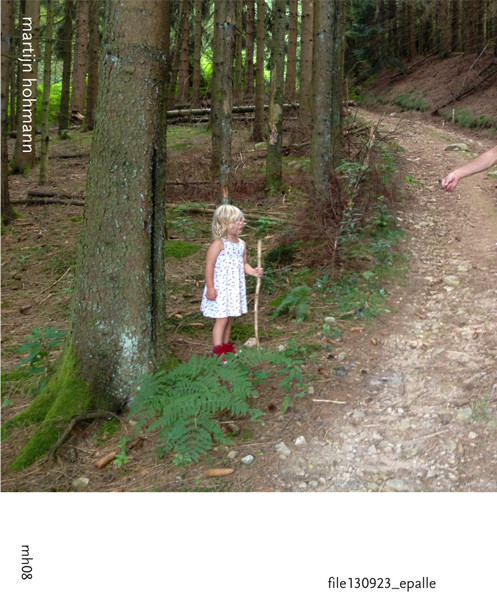 Martijn Hohmann – Maartje
Single sided pink 7″ limited to 199 copies.
Universaal Kunst MH06
Released as a birth announcement for Maartje Hohmann in an edition of 199 copies.


Martijn Hohmann – Equivocal Generation
Single sided 7″ limited to 50 regular and 25 boxed copies.
Universaal Kunst MH04 / MH04A
Released on 24 Nov 2009; 150 years after the first publishing of 'On the origin of species'
Recording and processing by Martijn Hohmann.
Thanks to Mars F. Wellink, Nynke Bijlsma and Lambert Deemsterhede.
For Charles D.
Regular edition
50 transparent vinyl copies in handmade foldout covers. Universaal Kunst – MH04
This edition is still available and can be ordered via email. Price: 9 euro a copy.


Art edition
25 copies in handmade linen boxes with numbered and signed insert and banderole. Universaal Kunst – MH04A.
The translucent amber coloured 7″ playable object contains parts of leaves and insects resembling baltic amber.
This edition has now sold out.

Various Artists – Geluidpost 2CDr
A co release between Lokaal 01 & Universaal Kunst – LP-CD 02.
2CDr limited to 250 copies released 17 september 2009
It contains all pieces that were in geluidpost during 2007 and 2008.
Tracklisting:
Machinefabriek
Janek Schaefer
Rudolf Eb.Er
Merzbow
(ad)vance(d)
Sonologie studenten
Steve Roden
Francisco López
Staplerfahrer
Vital review –>

Musiquemachine review –>


Martijn Hohmann & Marc Heijmans – Trendel mLP
single sided 12″, limited to 100 regular & 75 boxed copies, Released september 2007 – MH01
Trendel was created using the following soundsources:
A recordplayer playing records treated with a mezzotint rocker, a rubberband, water and a voicemailmessage.This single sided album has three tracks running on 45 rpm on one side and a silkscreened image on the other. Dedicated to Arthur van Keppel
The release is split into two parts:75 numbered copies were released in a pizza box containing 16 artworks by 16 different artists. This box was presented during the opening of the exhibition'Outsiders' in Breda the Netherlands.

The other part is a regular album release without a box, limited to 100 numbered copies housed in a silkscreened sleeve. This edition is still available and can be ordered via email for 12 euro a copy.
postage within EU: 8 euro, World: 15 euro Payment via paypal or banktransfer.

Martijn Hohmann & Marc Heijmans – Mo
Black CDr, limited to 50 copies, released in 2003
Originaly composed for the listening space at 'Luisterpost', Lokaal 01
This recording also appears on the VA luisterpost 2CD


Martijn Hohmann – Geheugen van een Eik
CDr, limited to 10 copies, released in 2003
Recordings of an art installation to commemorate The North Sea flood
of 1953 at Fort Sabina (Willemstad, The Netherlands).
The installation consisted of a large oak treetrunk made playable
by carving out the 50th tree-ring (the year of the flood)
and playing it like a looped record groove using a nail as stylus.


or.. Check Discogs